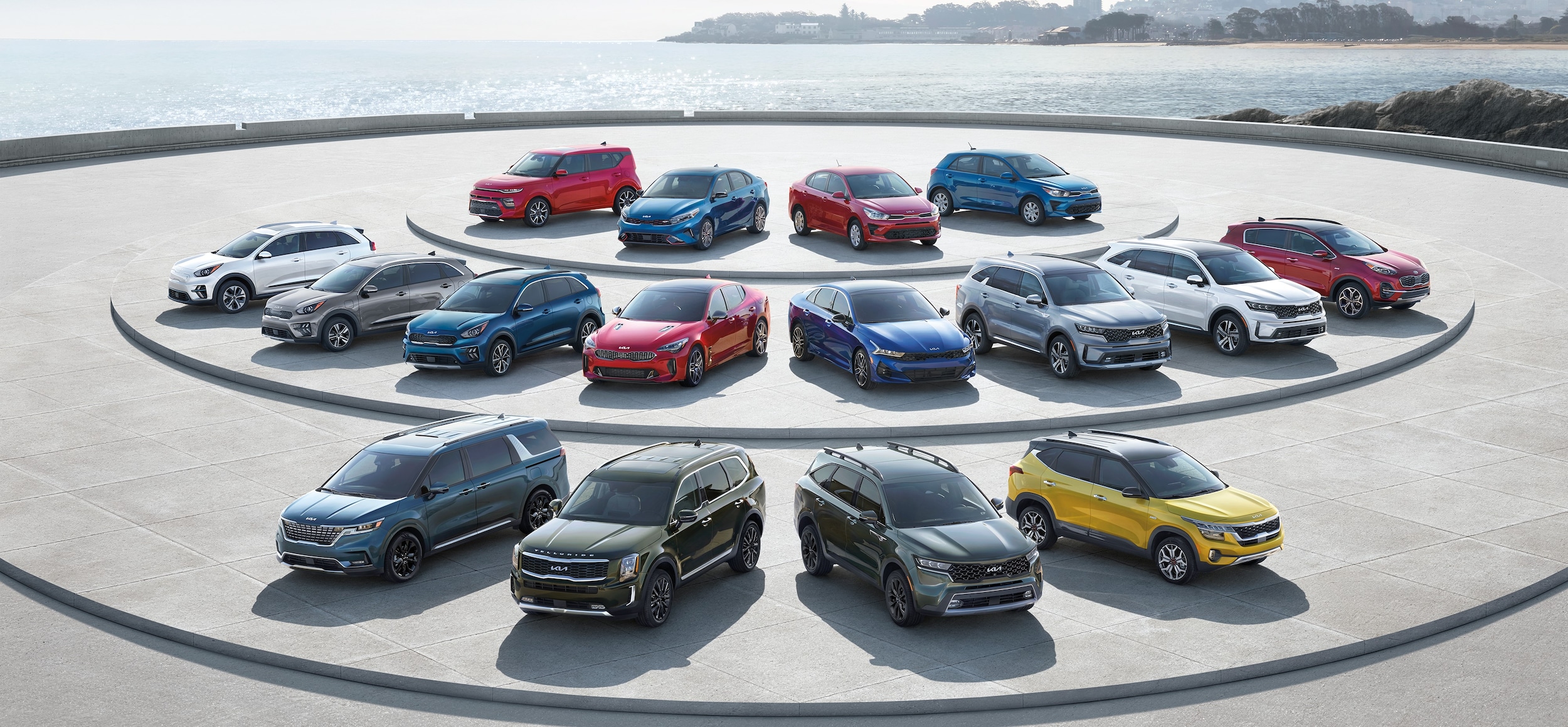 The 7 Most Popular Kia Models in Upstate New York in 2021
When you're car shopping, the choices available can be overwhelming. If you've decided to go with a new Kia or want to learn more before choosing a Kia, you'll probably want to know what the popular models are.
Here are seven of the most popular Kia models we have here at Garvey Kia. These particular models are the ones you see throughout the Albany - Saratoga area and upstate New York.
1. Kia Telluride: The Biggest SUV in Kia's Lineup
Kia's biggest SUV seats up to eight passengers across 3 rows. And because the 2021 Telluride does things just a little better than the others in its category, when we say it seats eight, it does so very comfortably. The Telluride stuns with its high-quality design of the luxury-like cabin. It features a smooth ride and is abundantly equipped with the latest tech and safety features.
The 2021 Telluride model is available in four trim options: LX, S, EX, and SX. Each comes with a 3.8-liter V6 and is paired with an eight-speed automatic transmission. Front-wheel drive is also standard, though all-wheel drive (AWD) is optional on all four trim packages.
2. Kia Sorento: A Three-Row Compact SUV
The 2021 Kia Sorento delivers everything you'd want of a modern SUV. From comfortable seats to plenty of cargo space, not to mention a vigorous acceleration from the optional turbocharged motor. Plus, the latest version is large enough for adults to sit in the third row!
This three-row compact SUV is available in six trim levels, including the LX, S, EX, SX, SX Prestige, and SX Prestige X-Line. Front-wheel drive is standard in almost all models, with AWD available as an option. The exceptions are the SX Prestige which is front-drive only, and the SX Prestige X-Line is AWD only.
3. Kia Seltos: The Newest Small Crossover SUV
The 2021 Kia Seltos is the newest addition to the fast-growing small crossover SUV lineup from Kia. The two-tone roof and stacked headlight design look unique and help it stand out from the crowd. Available in five trim levels: LX, S, S Turbo, EX, and SX.
Engine options include either the base 146-hp or the more powerful turbocharged 175-hp. Enjoy a smooth acceleration from a small SUV. Optional all-wheel drive is available. The inside is constructed of premium-feeling materials and is spacious enough for four adults. Need to haul stuff? No problem! You can simply fold down the rear seats to provide extra cargo space.
4. Kia Sportage: A Small But Loaded SUV
The 2021 Kia Sportage is a small SUV that slots between the three-row Sorento and the compact Seltos. The Sportage packs tons of features into an affordable package, with available all-wheel drive and a striking design that helps it stand out from the crowd.
There's a long list of standard features on all Sportage trims, but the EX really packs them in for the price. This model adds several visual upgrades as well as some that you'll feel right away. These include the power-adjustable driver's seat, leather-wrapped steering wheel, and dual-zone automatic climate control.
The 2021 Kia Sportage is available in four trims: the LX, S, EX, and SX. All models come with a six-speed automatic transmission and your choice of front-wheel drive or all-wheel drive.
5. Kia K5: The New Midsize Sedan, Formerly Known as the Optima
For two decades, the Optima has offered attractive styling and good value for money. However, with the redesigned 2021 model, Kia decided to go all-in and give it a new name! Enjoy features like bolder styling, new engine, and transmission options, and plus, there's now an AWD option.
The 2021 Kia K5 is offered in five trim levels: LX, LXS, GT-Line, EX, and GT. Front-wheel drive is standard, and all-wheel drive is optional in the LXS and GT-Line.
6. Kia Soul: The Small but Roomy SUV with Lots of Extras
The 2021 Kia Soul is available in six trim levels, including the LX, X-Line, GT-Line, S, EX, and Turbo. For five of the trim levels you'll get a 2.0-liter four-cylinder engine. The exception is the Turbo level, which comes with a 1.6-liter turbocharged four-cylinder. The LX level comes with a six-speed manual transmission as standard. It can be optioned with a continuously variable transmission (CVT) which is standard on other trims. The Turbo model also features a seven-speed dual-clutch automatic transmission.
7. Kia Forte: The Small but Sporty Sedan
The 2021 Forte goes head-to-head with rivals, including the Honda Civic, Mazda 3, Subaru Impreza, and Toyota Corolla. However, the Forte stands out even among this group. Features include handsome design, easy-to-use tech, and excellent fuel economy. It's also a good value with plenty of features for your money, plus Kia's outstanding warranty. Five trim levels are available: FE, LXS, GT-Line, EX, and GT.
These are all great Kia models, but remember, the right Kia for you is the one that meets your wants and needs. Come test drive a Kia today!
Our mission at Garvey Kia is to offer a personalized, professional, and exceptional sales and service experience delivered with honesty and integrity.
The entire Garvey Kia team is fully committed to your complete satisfaction in every area of our Kia dealership, from our new and used car salespeople and managers to our service and parts advisors. We're confident that you'll find your visit to Garvey Kia a positive one.